My Life
Finding Solace and Community as a Black Woman at Burning Man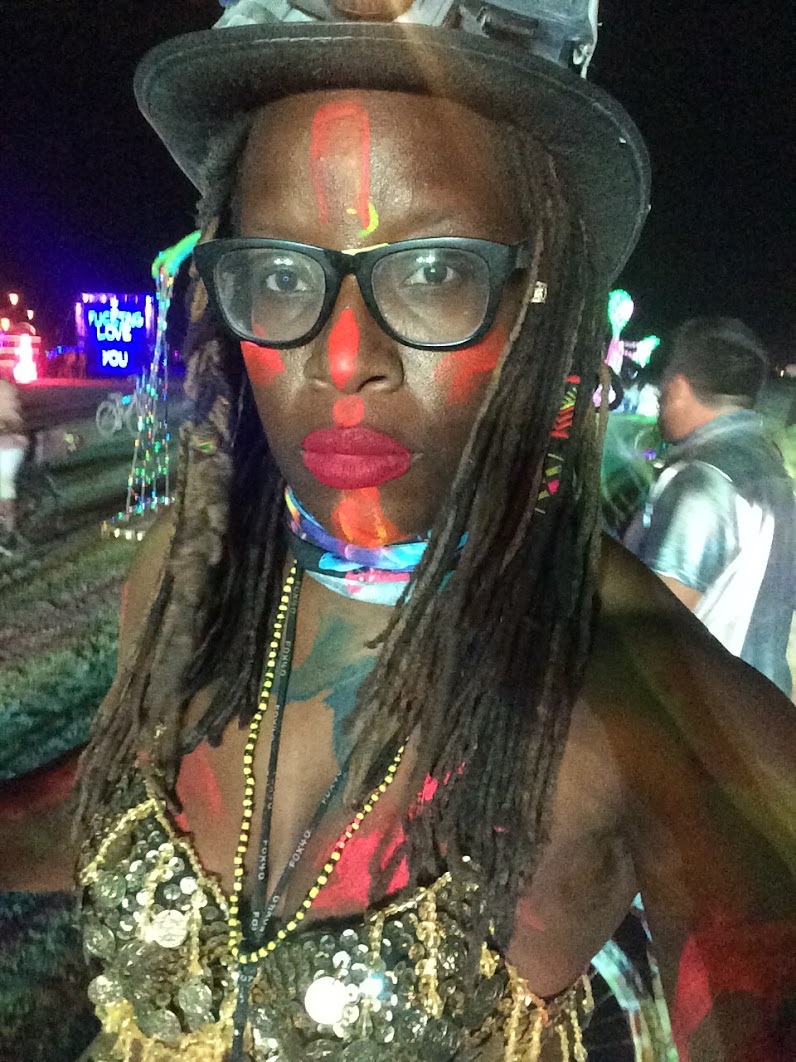 As a Black woman, you know what it's like to be in a world that constantly tells you that you're not good enough. From the moment you're born, society tries to clip your wings and convince you that your natural beauty isn't valuable.
But you've never given up. You know your power, and you've fought for it every day.
That's why Burning Man is so important to you. It's a space where you can be free—free to be yourself, free to dance in the sun, free to love who you want to love. It's a space where you can find community and solace among people who understand what it means to be different.
This year, we invite you to join us at Burning Man. We want to share this experience with you, and we hope you'll find the same sense of liberation and joy that we do.
Exploring My Yoruba Heritage at Burning Man
You've chosen to explore your Yoruba heritage at Burning Man. You've seen the article online, and you're excited to dive in. You've always been interested in West African culture, but you're not sure where to start.
One of the best ways to explore your heritage is by talking to the people who come from that culture. Ask them questions about their experiences and what they've learned. Listen with an open mind, and be prepared to learn something new.
You may also want to visit the Yoruba Village at Burning Man. This is a place where you can learn about West African culture and dance, and meet people who share your ancestry. It's a great way to connect with your roots and learn more about who you are.
Motherhood at Burning Man
As a mother, you are the first and most important teacher your child will ever have.
It's your responsibility to show them the world and help them learn about it. And what better way to do that than to take them to Burning Man? This is a place where they can see people of all different colors and cultures coming together to celebrate life.
They'll see people of all different ages and backgrounds joining in the fun. They'll experience art and music and creativity in a way that they could never learn from a book or a classroom. And they'll learn about themselves, and who they want to be in the world. Burning Man is an incredibly important experience for mothers and their children, and it's one that you shouldn't miss out on.
Afro-Futurism Experienced at Burning Man
You mentioned that you experienced Burning Man as an afro-futurist. What did that mean for you?
For me, it was a chance to connect with my history and my heritage in a really powerful way. I felt like I was part of a community that shared my values and my beliefs, and that was really important to me. It was also a chance to celebrate my Africanness in a way that I don't often get to do.
I think it's important for black women to have a space where we can feel safe and seen. And Burning Man definitely provided that for me.
Environmentalism and Burning Man
One of the ways Black femininity is expressed at Burning Man is in environmentalism. After all, this is a sustainable event—it runs on solar energy and prides itself on its low waste policy. The importance of being mindful about the environment resonates with Black women in particular because we understand how essential it is to take care of the earth.
The event also provides a space to explore black afro-futurist potentials. Just being able to be around like-minded people that are passionate about their work, share similar values and goals, and explore hybrid-cultural identities, gives me time and space to be dream and imagine without boundaries. I get to create art with natural materials, experiment with technology, participate in conversations about social justice, and engage in workshops that honor traditional Yoruba values. All of this helps me build community as a black woman seeking solace in identity crisis.
Processing Intersectional Experiences as a Black Woman at Burning Man
As a Black woman at Burning Man, it is so important to be able to process the intersection of my identities. It has been transformative for me to explore how I can be a Yoruba woman, a mother, an afro-futurist and an environmentalist all at once. I can embrace my African roots while celebrating the magic of technology and science. I can revel in the freedom of being away from it all while understanding that this experience is possible because of the labor of Black people and other people of color who created something special from nothing.
Burning Man has been a space for me to honor the many facets of my identity, challenge social norms and explore deeper meanings about culture and community. I have found solace by connecting with others who share similar values and experiences as me. We have built community by creating shared rituals, traditions and stories that honor our unique blackness. It is truly a place where I can come as I am without fear of judgment or rejection.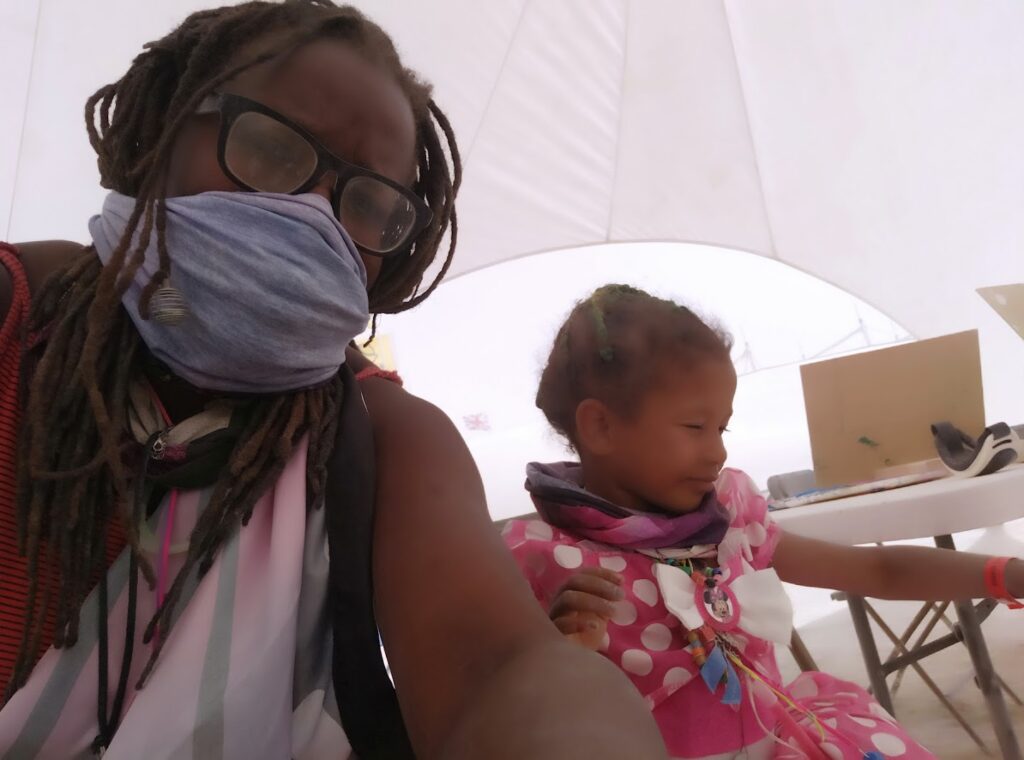 Connecting to One's Ancestors Through Burning Man
Connecting to one's ancestors has always been a powerful and meaningful experience, and at Burning Man, it's no different. As a Yoruba woman, you can honor your ancestors as you explore the sacred principles of Yoruba spirituality that have been kept alive for so many generations.
At Burning Man, you have the opportunity to discover and celebrate your personal relationship with the spirit world, from rituals like smudging and cleansing with sage to ancestral healing ceremonies. Burning Man also offers workshops on decolonizing the body, healing from intergenerational trauma, and embracing traditional spiritual practices like orisha worship.
On top of that, connecting to one's ancestors is also possible through the many art pieces scattered around the playa; take some time to appreciate the beauty of Afro-futurist concepts and sculptures inspired by Orisha gods. It's a great way to reflect on and honor one's ancestors as well as create an unbreakable link between yourself and your roots.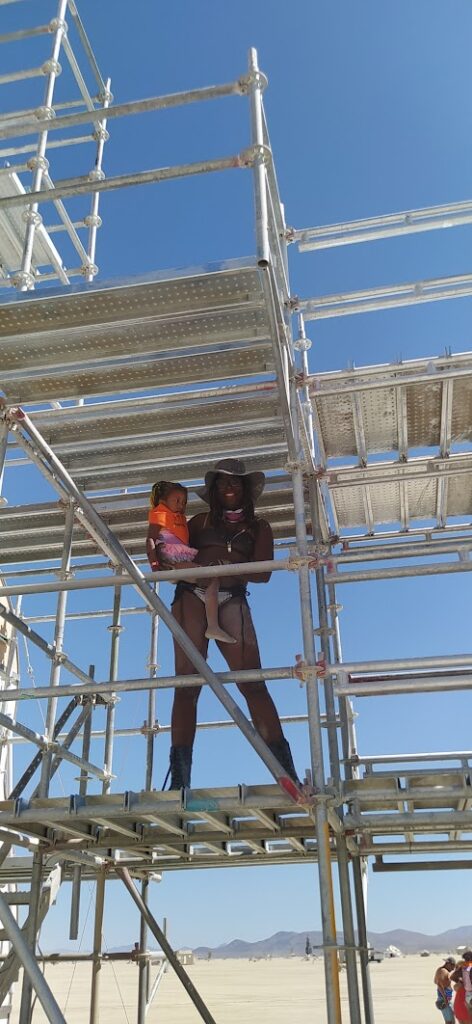 What does it mean to be a Black woman at Burning Man? To some, it might mean simply being there and experiencing the event and all it has to offer. To others, it might mean creating art or performances that celebrate Black culture and the African diaspora. It might mean connecting with other Black women who are there and sharing stories, experiences, and advice. Or it might mean using the event as an opportunity to talk about important issues that affect Black women, such as racism, sexism, and homophobia.
No matter what it means to you, Burning Man is a place where you can find community and solace among other Black women. It's a place where you can be yourself without feeling the need to conform to societal norms. It's a place where you can celebrate your African heritage and your afro-futurist ideals. And it's a place where you can help protect the environment and promote sustainability.